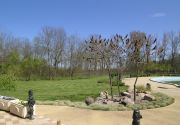 Luxury property in Bulgaria
Mekoa is proud to present Seagarden Villas: a luxury seaside development like no other, on the Bulgarian Black Sea coast.
The location is idyllic: just minutes from three sandy beaches, secluded coves, a water sports centre.
Now available: apartments and houses for sale:
just 200m from the sea,
just 200m from the beach,
just 200m from the countryside,
near Lozenets, the Bulgarian "St. Tropez"
Restaurants, bars cafes, tennis courts, swimming pool, fitness and health centre, shops, nightlife, beautiful countryside: everything is within walking distance.
Villa zone
Located in a 'villa zone', the buildings are smaller, giving a more relaxed atmosphere.
Apartments have only one neighbour,
each villa is a separate building.
Roof terraces with panoramic sea-view.
Private garden for each villa and
Private garden for each ground floor apartment.
Ideal for barbecues, parties or sunbathing.
This is quite possibly one of the most desirable seaside real-estate projects in Bulgaria. Where else can you find all these attractive features combined together in one luxury development?
For sale: villas and apartments

Villa Duo
The Villa Duo is a luxury house with five rooms and three bathrooms, on three floors
... »

Villa Una
The Villa Una is a luxury house with eight rooms and five bathrooms, on three floors
... »

Apartment Duo 'a'
The Apartment Duo a is the ground floor of the Villa Duo and has its own private garden and entrance
... »

Apartment Una 'a'
The Apartment Una a is the ground floor of the Villa Una and has its own private garden and entrance
... »

Apartments
in Sea River Resort
Coming soon: apartments for sale in Mekoa Sea River Resort, Primorsko Bulgaria
... »