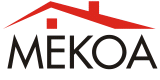 Mekoa Limited
Mekoa Limited has four main spheres of operation: property, construction, furniture and tourism.
Mekoa Property specialises in the development of high quality real-estate projects. It also offers a consulting service for investors, on all aspects of property development.

Mekoa Construction specialises in low density high quality building in Bulgaria - houses and villas, apartments and hotels. It employs architects, engineers, construction workers and property consultants, to provide a complete end to end solution.

Mekoa Furniture offers custom designed "made to measure" furniture, which offers good value for money and superior quality. Furniture packages are available, which provide a complete solution for the apartment or villa owner.

Mekoa Tourism organises accommodation and activities for tourists to the Bulgarian Black Sea coast. It owns and operates an hotel in Primorsko, and Seagarden Villas in Lozenets. Mekoa employs managers, hotel staff and works with tour operators and advertisers to provide a complete service for tourists visiting Bulgaria.

Mekoa Limited is a privately owned company with British, Swiss and Bulgarian shareholders. The head office in Bulgaria is in the city of Plovdiv. The main customer center and showroom are in the offices of Mekoa in Primorsko, Burgas Province. Mekoa is also written "Mekoa" in Bulgarian and Russian languages. It uses letters which are common to both the Cyrillic and the English alphabets.