Seagarden Resort - superb location, superb facilities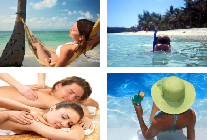 Seagarden Resort combines the comfort of your private home with the facilities of a luxury hotel. Located at the foot of the beautiful Strandja mountains, the region is popular with tourists.
Panoramic sea views, countryside, plenty of activities for holidaymakers and the best weather in Bulgaria guarantee a fabulous experience.
Relax, socialize, or have some excitement. Chill-out by the pool in Seagarden Resort. Treat yourself to a massage. Enjoy your food and drink in the company of friends, in the bar or restaurant.
Try scuba diving in the neighbouring watersports center. Go horse riding or cycling in the Strandzha national park. Go shopping in Lozenets, or take an organized tour. In Seagarden Resort, there is something for everyone.
A private paradise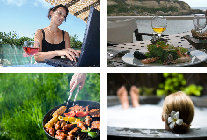 Each villa in Seagarden Resort has its own private space. A private garden and a private roof terrace. Relax in private, enjoy the sun and the fresh sea air, read a book. Throw a party for your friends and family, enjoy the smell and taste of a sizzling barbecue.
Relax in your jacuzzi and enjoy the superb panoramic view from the roof terrace. You will feel like you are on top of the world.
Away from the crowds, close to the action!
Just fifty minutes drive from Bourgas airport, Seagarden Resort is located in an area which has long been a favourite of holidaymakers to Bulgaria.

With a surprising variety of beaches, and not far from the holiday town of Lozenets, the location has something for everyone.

The resort is located on the southern Black Sea coast, south of the Ropotamo Reserve, east of the Strandzha National Park. It is near Oasis, close to Lozenets, in the municipality of Tsarevo.
Seagarden Resort
Seagarden Resort is a luxury complex with a full range of services and facilities for both tourists and residents.

Spa facilities:
• Swimming pool
• Sauna,
• jacuzzi
• massage
Concierge service:
• car hire, taxi
• organised trips



• Reception
• Restaurant, bar
• Children s play area
• Fitness club
• Table tennis, snooker
• Internet café, Wi-Fi
• Shop, laundry, cleaning
• Barbecue service









Nearby:
• protected wildlife reserve,
• cultural and historical sites,
• fire dancing in Bulgarian villages,
• overnight trip to Istanbul!



Activities
• horse riding, cycling, hiking,
• aqua aerobic, fishing, hunting
• scuba diving, snorkelling, sailing
• windsurfing, paragliding, parachuting.